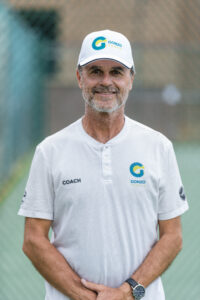 I am a National Tennis Coach and I have been Director of Training and Promotion of the Argentine Tennis Association for more than 15 years, representing it in the International Tennis Federation (ITF).
Director and coordinator of the AAT SI Talent Selection Program for 7 and 8 year olds based on Tennis 10s. during the years 2014 and 2015
I have lectured in numerous international courses on Tennis Development.
I am a specialist in management and teaching in tennis academies. International expert in Promotion and Development of tennis.
I have written books and articles on teaching tennis for children and adults.
I have created the "Playing Tennis in Free Spaces" Program, carrying out actions in Beaches, Supermarkets, Shopping Malls, Fairs and Public Parks in different cities of the country.
I have given numerous Tennis Promotion Clinics with the participation of Argentine professional players who are members of the Davis Cup team. I have coordinated the exhibitions made by Novac Djokovic and Rafael Nadal in Argentina.
I relish the opportunity to help you achieve your tennis goals!