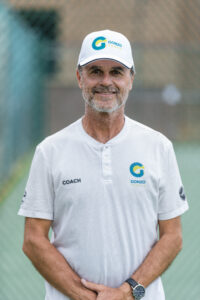 AAT - ITF Certified / Head Pro
He is an International Tennis Coach and has been Director of Training and Promotion of the Argentine Tennis Association for more than 15 years.
 He has directed the Argentine Children's Selection Program for 7 and 8 year olds based on Tennis 10s.  during the years 2014 and 2015. and has been director of the Municipal School of the City of Buenos Aires for 7 years
 Speaker at International Congresses of the International Tennis Federation (ITF)
 He has written books and articles on Tennis Schools for Children and Adults, a subject in which he is a specialist.
 He has taught numerous Tennis Clinics with professional players from around the world